Online Seminar: 3 Tips for Integreat Search Engine Optimisation
15. February 2023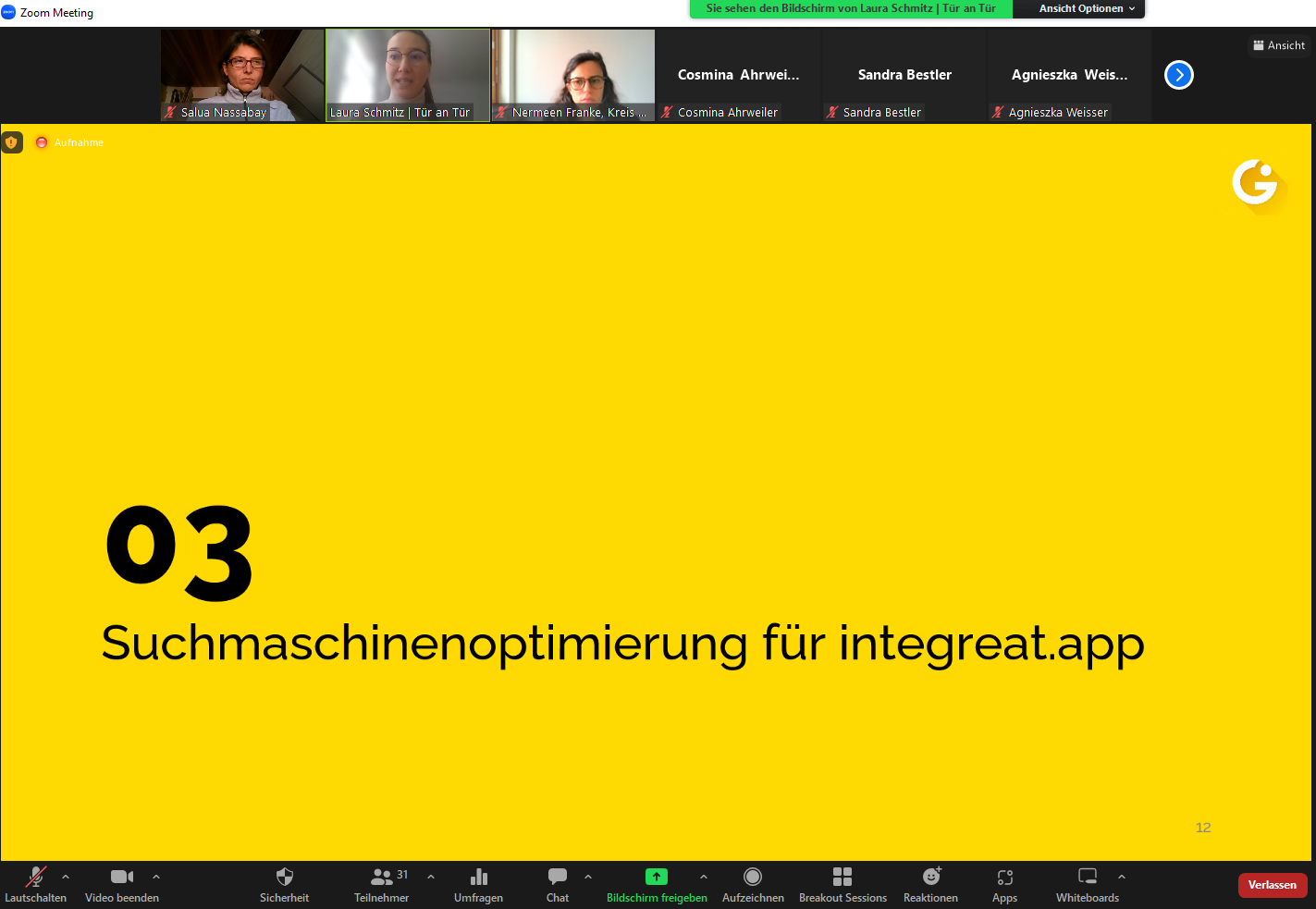 Over 30 local Integreat coordinators from municipalities joined us on Friday to discuss the topic of search engine optimisation. With Integreat, cities and counties can use a 3-in-1 solution. This means:
Integreat managers create their content once. Afterwards, new immigrants can view this content via three different ways:
via the smartphone app Integreat for iOS and Android
via the web app integreat.app
via the print version of the app, generatable for each page
Via the link www.integreat.app, anyone interested can call up the content of the Integreat cities and districts in many different languages. This means that search engines can also analyse this content. Well-known search engines are, for example, Google, Bing or Ecosia. There are a few tips and tricks to ensure that the content of the cities and counties is placed as well as possible in the search results of the search engines. This is exactly what we talked about in our last online seminar. And this is what we learned:
1. Links are important
On the internet, links correspond to recommendations. And nothing helps us humans make decisions more than recommendations from people we trust. Exactly the same applies to Internet pages. For this reason, search engines prefer websites that are linked to by many other trustworthy sites. The contents of such a website seem to be recommendable. This means for those responsible at Integreat:
The website of your own city or district should link to your own integreat.app page
Regional integration actors who may have already participated in the introductory workshop should also link to their own integreat.app page on their websites
Check the resources provided by the Integreat team. These include for example our Integreat-Search-Widget or Integreat-Banner.
2. Crisp, simple texts are important
The content in Integreat is intended to help newly immigrated people in Germany. Newcomers to Germany have many questions. New immigrants should find the answers to these questions in Integreat. But they can only do so if the texts are easy to read and understand. The beauty of it? Search engines see it the same way. Short sentences, few foreign words – both new immigrants and search engines like all this. For this reason, too, we recommend that our cooperation partners work with our latest function: the comprehensibility index.
Almost more important is the clear formulation of texts in Integreat. What is the topic of this text? This should be clear from every heading and every paragraph. The frequency of certain words is also helpful for search engines. The more often a word occurs in a text, the more important it seems to be for that text. This helps the search engines to automatically evaluate what the text is about. And then in turn display this text for matching search queries. So: don't beat around the bush, name the topic of your text. Preferably even several times.
3. Structure is important
Most people looking for information want to find it on the internet as quickly as possible. No one wants to search for answers for a long time. This also means that most people online only skim texts. They scan texts looking for the section that is relevant to them. From this it follows for us: There must be sections.
Divide the texts in Integreat into several sections. Use a separate heading for each section. That way, everyone will find the answer they are looking for more quickly. At the same time, this heading structure also helps search engines to evaluate the text automatically.
Our conclusion on the online seminar
We are overwhelmed by how many people wanted to learn more about search engine optimisation for Integreat. Now it's a matter of moving forward in small steps. Again and again, the cities and counties have to update content in Integreat. Right at this moment, there is a chance to structure and simplify the texts a bit more. This benefits both the new immigrants and the search engine optimisation.